http://www.new-byzantium.org/Ordr.Lgbl.Txt.html

IMPERIAL & SOVEREIGN ORDER
Of
Saint Constantine The Great
"The Order is sovereign, and does not depend upon any power. It is international and world wide. It is self contained by its own organizational hierarchy. It is governed by a Constitution which is adapted to current needs in the effort to realize the goals of the Order.
The Order is Christian and admits all the Christian Churches: Orthodox, Catholic, Lutheran, Calvinist, Armenian, etc. It is a civil and historic Order which is not religious neither in its history nor in its Constitutions or organization. Its goals are traditional, historic and cultural. It propagates Philhellenism and Philobyzantinism, Humanitarianism, the Cultural and Spiritual Renaissance of the Western World, and a better understanding between Occidental thought and that of the Orient in India and China. It aspires that in the coming unification of the nations of the world, the helleno-byzantine legacy shall rank first in place as a philosophic premise for unity.
The Order is not political and it only seeks to draw together in cooperation the elite intellectuals of the world. It makes no distinction of races. Men are divided hierarchically by the culture and Spirituality which they possess, and not by richness nor materiality. It struggles for the sake of spiritualism [
-ality
], duty, honor and the ideals of Universal Knighthood. It is tied to the innermost Byzantine traditions and strives to secure Byzantine survival as a Spiritual entity."
Scroll down on that article...all the way to the bottom and we read this:
NEW BYZANTIUM
is The AMERICAS
. . . Oh? it is?
Whats the addage? History repeats its self...
Also on this lovely little website is This:
"T
he author penned his work under the dual name of Ayla Hesperia – two titles of Byzantine nobility awarded him by the House of Lascaris Comnenus of Constantinople for the many years of loyal service to the Orders of
Saint Constantine the Great, Saint Helen Empress, and Saint Eugene of Trebizond. He is also a clergyman ordained within the fold of Eastern Orthodoxy.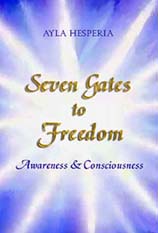 http://www.new-byzantium.org/7g.htm
...Hmm...7 gates to freedom? Like the seven chakras?
http://www.expandinglight.org/free/other/chakras.htm
My words exactly Sir.



Posts

: 242


Gender

:

Join date

: 2011-01-31




---
Permissions in this forum:
You
cannot
reply to topics in this forum