Change comes to Syria - slowlyFor an American in Syria, progress is obvious, but there's still far to go.
In early 2005, the U.S. withdrew its ambassador to Syria after the assassination of former Lebanese Prime Minister Rafiq Hariri. But the Obama administration has recently signaled it will send an ambassador back soon, and the rumor is that Obama will visit Syria this fall.
There are other signs that this stalemate of mistrust may not last forever. Damascus is said to be the oldest continuously inhabited city in the world, and so maybe it makes sense that change comes slowly here. To be sure, on the outskirts, Damascus already has what must be one of the planet's most complete car shopping districts, with vehicles from Detroit, Europe, Persia, and China.
Photos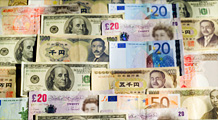 10 countries, 10 solutions
A financial crisis has engulfed countries from the best-off to the worst-off around the world. The solutions to the problem are varied.
View photos
http://money.cnn.com/2009/08/10/magazines/fortune/change_comes_syria.fortune/index.htm
World Bank chief urges new role in Middle East


By Lesley Wroughton Lesley Wroughton – Mon Mar 21, 4:40 pm ET

WASHINGTON (Reuters) – The World Bank is rethinking its role in the Middle East and North Africa to tackle economic and social problems that sparked political unrest, the bank's President Robert Zoellick said on Monday.

The poverty-fighting institution needs to find some way to convince resistant governments change is needed, he said.

"We have produced a number of flagship reports on governance, youth inequality, quality of education, special disparities, and the noncompetitive nature of the private sector in the region," Zoellick said in opening remarks at a World Bank conference on Arab issues.

"But the record of action has been spotty. Like others, we also have much to learn," he added.

The conference, held at the bank's Washington headquarters and carried live on the Internet, brought together journalists, think tanks, youth and women groups, and academics from the Arab world to discuss changes taking place across the region.

Protests against political repression, corruption, high unemployment and a rising cost of living toppled rulers in Egypt and Tunisia and spurred uprisings in Yemen, Bahrain, Morocco, Jordan, Algeria, Saudi Arabia, Syria and Libya.

[PROBLEM - REACTION - SOLUTION]

The changes have forced institutions like the World Bank and the International Monetary Fund to take a harder look at their roles amid criticism they supported economic and development policies of authoritarian governments that worsened poverty and unemployment.

Zoellick said part of the process of modernizing multilateral institutions was to learn from mistakes.

"The challenge we have as an institution is when a government resists, how do we engage?" he told reporters.

"Some people say pull back, don't do anything, but often there are opportunities to ... make a difference," he added.

Zoellick said such issues need to be debated by World Bank member countries who fund the institution and meetings of the World Bank and IMF in mid-April present an opportunity to address ways the bank can support the transitions.

In the near-term, Zoellick said he worried about high expectations for change at a time when global food prices are rising, adding to the fiscal burden of countries in the region that import most of their food.

LEARNING FROM HISTORY
He said while there may be a tendency to want to forget the past, there were important lessons "not necessarily to be choked by them but to understand what questions to ask going forward".

"In order to identify and explore these issues, we need first and foremost to open up a genuine and deep dialogue with and between the different voices in the region," Zoellick told the conference. "They are issues that will not go away simply because one government fell, or one leader replaced another."

Samer Shehata, a professor at the Center for Contemporary Arab Studies at Georgetown University, told Reuters revolutions in Tunisia and Egypt were reactions against economic and social policies championed by the World Bank and IMF.

"In many ways the Tunisian and Egyptian revolutions were against neo-liberal economic policies that were merciless on poor people because they bet on the future," Shehata said, pointing at the 14.4 percent unemployment rate in Tunisia.
Shehata said the institutions needed to change the methods they use to evaluate development and progress in the region, and should not sidestep sensitive political questions.

"They need to focus on the vast majority of the population and their living conditions, and also political issues like how good is the quality of institutions, is there political participation, and are elections free and fair," he said.

"It can't just be simply about rates of growth."
(Editing by Padraic Cassidy and Andrew Hay)
http://news.yahoo.com/s/nm/20110321/bs_nm/us_worldbank_mideast
Obama proposes $100 billion U.S. loan for IMF

(Reuters) - President Barack Obama on Monday proposed a $100 billion U.S. loan to the International Monetary Fund to boost the IMF's resources and urged a bigger stake in the IMF for emerging powers.

In a letter to U.S. congressional leaders, Obama said the U.S. funding "does not represent a budgetary expenditure or any increase in the deficit since it effectively represents an exchange of assets."

The $100 billion is part of commitments made by Group of 20 countries at a London summit on April 2, which agreed to triple IMF resources to a total of $750 billion to help the IMF respond to crises in emerging market economies as a result of the global financial crisis and economic downturn.

The U.S. funding will boost the IMF's so-called New Arrangements to Borrow, or NAB, a facility which allows member countries to provide credit to the IMF to deal with crises that may threaten the stability of the global financial system.

Obama said the NAB was "woefully inadequate" to deal with the severe economic and financial crisis.

"The deteriorating conditions threaten to worsen the recessions in these countries and could cause currencies to collapse," Obama wrote.

"Together, these factors, particularly if they become more acute, will further lower global growth and, as we saw during the Asian financial crisis, they will cause U.S. growth, jobs, and exports to fall even more sharply," he added.

He said an enlargement of the NAB facility of up to $500 billion would allow for increased participation by emerging market economies, in particular China and India.

Chinese officials have already indicated that Beijing plans to contribute $40 billion to the IMF through a bond issued to its central bank by the Fund.

Obama said countries were looking to the U.S. to deliver on its G20 commitment, indicating that other governments could follow the U.S. lead and contribute to the IMF.
(Reporting by Lesley Wroughton; Editing by Marguerita Choy)
Assad sees Syria plot, unyielding on emergency law


DAMASCUS (Reuters) - President Bashar al-Assad defied calls on Wednesday to lift a decades-old emergency law and said Syria was the target of a foreign conspiracy to stir up protests in which more than 60 people have been killed.

http://ca.news.yahoo.com/syrias-assad-expected-lift-emergency-law-20110329-195441-580.html
---
Permissions in this forum:
You
cannot
reply to topics in this forum